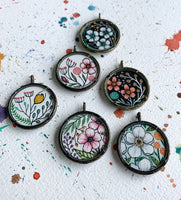 Small original paintings perfect for gifting or keeping.
Custom contour figure drawings available now!
So glad you found your way here!
I can't help it - I am always coming up with new ways to share my small original art. Signature Box Paintings, Original Hand Painted Necklaces, art prints, stickers, books, and contour figure drawings are my favorite ways to share small art love with the world. 
Each Hand Painted Necklace is an original watercolor painting that I have framed behind glass in a round pendant, strung on an 18 inch bronze chain. I specialize in Custom Orders (pet portraits, etc) but also have lots of my own unique original designs available for purchase. I have sold over 2,500 Hand Painted Necklaces since I came up with the idea in 2009.  
Signature Box Paintings are original watercolors framed in handmade or vintage wooden boxes and can be displayed on a shelf like a shadowbox, or hung on the wall with the rest of your pictures and paintings.
Want to receive original art on your doorstep every month? Join my Mail Box Art Club!